Enhance
Customize your checkout experience by plugging into Bolt's APIs, and pre-built integrations, and continuously enhance checkout performance with Bolt's repor
Plug & play integrations leverage our list of pre-built integrations to customize the checkout to meet your unique business needs. bolt's integrated platform removes the guesswork by ensuring that all systems work cohesively and allows you to manage every integration from one spot. shoppers analytics bolt provides you with a comprehensive breakdown of your checkout process to help you better understand shopper behavior. easily view field fills, checkout button clicks, and the number of completed payments. dedicated support get ongoing support from bolt's customer success team from implementation to launch and beyond. more personalization options for shoppers offer more payment options to your shoppers with bolt's simple integrations with installment payments, financing options, support for alternative payment methods like applepay and paypal, and more.
There is no how it works explanation for this product
There are no references for this product yet
Demo Available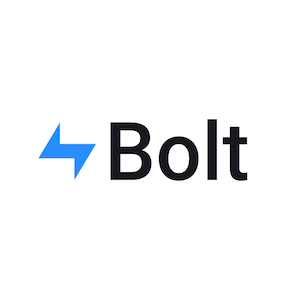 Bolt is a single, intelligent platform that replaces fragmented online checkout, payment, and fraud software. Bolt's lightning-fast checkout and precision fraud detection drive 10-100% revenue lift for ecommerce merchants.
View Company